Apparel business
cotton-padded clothes


Cotton-padded clothes to keep warm in the middle flocculation on the insulation materials such as cotton clothes. Coat in a large number of cotton or duck down, they are able to absorb a lot of air, while the air is poor conductor of heat, not the generated heat exchange, human body is not easy to escape the heat, people can feel the warmth.

Short black coat section, the length just right, a black portfolio, belts and necklaces of small skills, sense of achievement out of fashion, this match should be commended!

Light-colored long coat section, easy to visually create a bloated feeling, so choose a belt here, so that the proportion of good coordination on the lower body with gloss beige coat fabrics, high-end image, with 5 points in the gray pants, active fashion

Noble fur collar decorated with an edge in the long coat, showing the elegant, crisp impression

Cotton-padded clothes and jeans are common with, to a color, choose this season's coats glossy fabric is right, wearing wool hats, of course, have to be beautiful and warm.
NEWSLETTER SUBSCRIBE (EMAIL)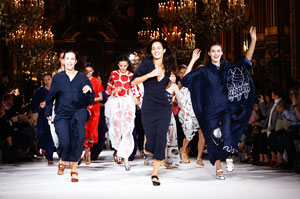 Online Fans