Apparel business
Denim Skirt


Denim skirt is a lot of dresses in the modified at least, wearing the most with the clothes. It is no age limit, as long as the fit man, accompanied by a pair of casual shoes with leather or they can be "upright" to come forward. Denim skirt is today's "less is more" the best interpretation of fashion.

Denim skirt new season with new fabrics has brought new texture, in which the natural simplicity of the stone washed blue jeans, elegant colors, cowboy, an onslaught of colored denim, the most personal of tie-dyed denim, with a rich tone denim skirt to make it into the elegant beauty of modern society.

There is also a feature denim skirt with wide, quiet or lively character, whether you may choose a bed of roses denim skirt, with the exception of the coat is very fashion and formal wear outside, it can be associated with. Such as the strap denim skirt, ankle-length skirt, casual with a denim jacket or a jacket or T-shirt, can reflect light and free leisure Yee uninhibited style. Another example is plump and of slender girl can wear suspenders denim skirt, with a pair of strap sandals are the most popular dress! Tall girls wear more suitable atmosphere rich countryside double wrap skirt, this skirt can be added back fold may or may not increase, its muffled way can also be optionally placed in the former or the back, then put on jeans Great shirt to make a slipknot can put before giving a refined feel. There is also a rich ethnic flavor of the wide pleated dress casual, coupled with a white cotton shirt, simple and contains a simple beauty, the same body shape and age for all women wear.

Denim skirt style is generally free and easy, casual, simple, natural, it not only has a kind of charming women, among the trace of calm in the elegant, but also fully demonstrated the women's health, magnanimous side. Different ages and status of modern women can find in the denim skirt in a common language, common language that is life, joy and vitality and youth.
NEWSLETTER SUBSCRIBE (EMAIL)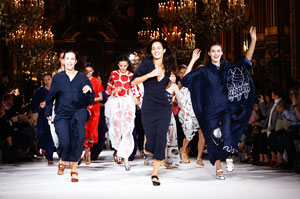 Online Fans