Apparel business
Fleece


Zhuarong Yi made mainly by the Polyester Fleece (call it the domestic habits grasp plush, Fleece), is the main outdoor sports in winter insulation material.

With the continuous development of science and technology, textile industry, a large number of chemical products into the apparel sector to deal with the cotton, wool and other shortcomings of the traditional fabric. First PP (Polypropylene) fabric used, it is not hydrophilic (hydrophobic) to sweat vapor through smoothly, Zhuarong Yi Photo (1) Polypropylene electrostatic adsorption, but the skin, and easy to play the ball, so polyester fiber (Polyester ) replaced Polypropylene.

Polyester is the most widely used synthetic fabric, light and warm, not easy to play the ball, has good ventilation and dehumidification of, as well as strong acid alkaline and UV resistant, but easy to produce static electricity, exposed to the dust problem has not been completely resolved.
NEWSLETTER SUBSCRIBE (EMAIL)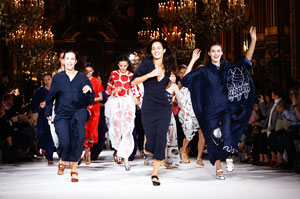 Online Fans