Apparel business
Overalls


A kind of sling, Baby's jeans styles. Lee brand jeans is said to be founder of H · D · Lee car from the driver position repair inspiration, designed to protect both the upper and lower body waist overalls. A century ago, overalls swept the world the only been 100 not wear that kind of simple and honest enthusiasm for the construction of the entire U.S. economy overall code Codes cloth. Originally a men's overalls, but after the fashion of girls was more affected by love. Overalls is a casual, youthful, boyish, and now looking for fashionable girls are tencel thin overalls, that walking in the wind crashed sound sense and a century ago with the original flavor of the coarse industrial workers fitted pants compared to really big difference.

Overalls simply stupid, such as ONLY the khaki overalls or denim or corduroy, hard in texture, with most models of dementia, coupled with simple T-shirt will be handsome; overalls can complex and beautiful, such as VERO MODA several new, in the ordinary overalls on with several large pockets, decorative ribbon or floral embroidery. Or coveralls, or low waist, hip little collection, legs began to relax, trousers mouth The wide flange. Delicate willowy woman's body wrapped in loose overalls, the Ruoyouruowu between, to bring out the casual elegance. That the sound of walking in the wind crashed feel and denim overalls a century ago compared to really big difference. Is no longer active people, but also buy bags of the hottest pieces of overalls, pleated, trim, silk and sports do not take these original elements of community are boldly added, the release of fresh and elegant French woman Qiyun makes one think of "Sex and the City" Lixialuote temperament appearance, a simple elegant header comb hair, wear the tight one-piece dress under the wide, can reveal impeccable taste and upbringing.

In texture, with bold outline style as a selling point of tooling services, as long as the chosen light-colored lines or soft material, will become more moderate, and thus acceptable to anyone. In color on the white overalls can shape a new image of fresh and beautiful, although the tooling services to khaki pants or brown over the main line, but not completely white. The overalls to wear clothing with the greatest charm is the most important. Because the overalls not mean stiff boring, it is important to see how you with! Khaki T-shirt, set within a white long-sleeved shirt under a red cotton overalls, are tired of overwhelming dark line of men might try bright red; soft tooling fixed-tone dress is khaki paint stain block the chest kind of khaki shirt, black cotton overalls, boots, which with high collar sweater; khaki twill denim with a very good job and is serving style of clothes are essential. The most rebellious but definitely worth a try to wear law is: coveralls overalls of the upper body in the empty, no more extra clothes.

Buy overalls should be noted that: both sides of the pocket should be large and flat type is best, allowing the hips were small; shallow low-cut design of the basic elements. Smaller package size of hip, buttock lifting will naturally reduce the effects of the hip; trim design for the hip will not be too flat; drape the cut line. Straight lines cut the fat will not give a sense of excess.
NEWSLETTER SUBSCRIBE (EMAIL)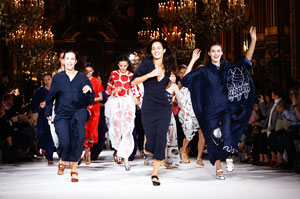 Online Fans