Apparel business
Chiffon shirt


"Chiffon" school name ", also known as georgette crepe georgette "----- georgette, crepe is a twist by, crepe silk weft of a woven fabric system, the name comes from the French georgette (georgette).

The silk and weft yarn twist by S twist and Z twist to the robbery of two different yarn, according to ZS, 2Z and white arrangement, with plain weave woven fabric of warp and weft density is small. Pichou by scouring, due to the role of silk in the back twist contraction wrinkle to form a surface covered with uniform silk crepe, georgette loose structure. According to the raw materials used can be divided into pure silk georgette, rayon georgette, polyester georgette and woven georgette and so few, if only to adopt a twist weft yarn to the weaving was known as the smooth fiber georgette georgette, georgette along fiber show through to the bump irregular-shaped pleated crepe. Georgette texture Qingbaotouming, cool touch soft elastic, light and elegant appearance, with good permeability and drape, wearing elegant and comfortable. Georgette light, heavy, thick, thin, transparent and face crinkled silk effects, etc., depending on the thickness of silk, blend, twist, and Density. Georgette suitable for making women's dresses, high evening dress, scarves, lanterns handicrafts. , Is the product of spinning silk products, fabric light, transparent, soft, elegant, name from the French CHIFFE of sound and meaning, meaning Qingbaotouming fabric.

Chiffon longitude and latitude, polyester or silk are used as raw material, processed about twisting the fabric structure to texture, color effect, in order to win a number of characteristics of ultra-thin stylish women of all ages. As the fabric warp and weft Graceful ease, especially easy to breathe, plus staining in the reduction processing is particularly adequate and fabrics feel soft, is the pursuit of fashionable women in the fashion fabric, fitted into the upper body, while Chen Yi charming and dignified elegance. In addition, "Stretch Chiffon" by the use of polyester FDY100D silk yarn, weft yarn with polyester DTY100D/48F +40 D spandex yarn as raw material, product not only shows a linen style, but also have the flexibility, and features. Loaded into the upper body, wearing only feel relaxed, but also added to the tender and beautiful joy and beauty. Chiffon dress elegant cool, very feminine, as the icing on the cake, Ms. clothing.

Chiffon shirt is a very light fabric is a synthetic fabric, for women to do with summer, feels a bit small sense of roughness, but that its characteristics, a bit waistband style dress belt, are do with it, and also can do the whole dress and skirt, but it is thin, should have a lining Caixing!
NEWSLETTER SUBSCRIBE (EMAIL)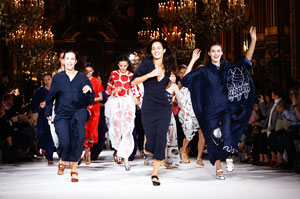 Online Fans