Apparel business
Seamless underwear


The edge of underwear to wear underwear in the body can not see signs that the concept of seamless.

The so-called "seamless underwear" is the use of special equipment for production of a novel shaping underwear, which used to produce high elastic knitted outerwear, underwear and sportswear for high technology with high flexibility, so that the neck, waist, hip and other parts without seams.

It will be comfortable, considerate, fashion, changes in whole body not just put it down to consumers, but also impressed many international famous brands designer, become a source of inspiration.

Three-dimensional shaping underwear clothing underwear industry in Europe and the United States has been strongly promoted by a ring. The less cutting, less seams, the quality personal comfort, and always well received by female friends of all ages. In the market, seamless underwear price, also included in the high-priced goods.

Clothing is stitched on both sides of the waist without the neck is not the whole ring and stitched on both sides of border have not stitched underwear.

According to underwear design and development, today's fashion trend is divided skirt worn with low waist, trousers without leaving traces after the hip fashion underwear. Fashion underwear hip cut, modified hip curve, the natural lift up the hip position, showing good hip shape.

This underwear more a "DuPont" companies lycra fabric, some thread space, and a unique elastic fiber. Wore extra absorbent, breathable, soft, comfortable and personal, for women of all ages wear.

The other is the mini-briefs, also known as "T" type pants, complete western natural schools of traditional ideas. Especially with the jeans and tight pants wearing, will not be left in the hip Le Hen, the real Seamless underwear.

Seamless underwear seamless underwear is that special equipment with a new shape underwear. 'T' type pants seamless use of the production of high elastic knitted underwear jackets, underwear and sportswear for high technology with high flexibility, so that the neck, waist, hip and other parts without seams. Seamless underwear completely comfortable, thoughtful, fashion, change rolled. Recently, a successful landing in Rome Yiwu seamless underwear market, and favored. Italy's mainstream media have reported another large Chinese companies landing in Rome, the news, saying China seamless underwear underwear market will bring new Rome, the impact of intensified competition. Yiwu seamless underwear style go with the trend, the market is very promising. Now purchase of not only Chinese, and more foreign customers and some are very well-known retailers in Europe.
NEWSLETTER SUBSCRIBE (EMAIL)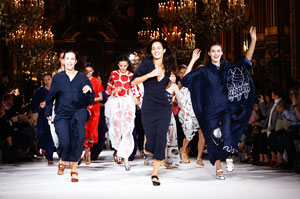 Online Fans