Apparel business
Sleeve


About

short-sleeve is a spring and summer clothes, one of the most popular option, especially in hot weather, unbearable heat of summer, short-sleeved with its natural, comfortable, chic without losing the advantages of a sense of solemnity gradually replace old men wear a vest or T-shirt plus a one piece short-sleeved shirt or sweater pattern in Hong Kong in social occasions, become willing to wear seasonal clothing. Has become the world's people of all ages love wearing the stylish are loaded. Reportedly the world's annual sales have been as high as several one billion, and constitute the world's most popular jeans, wearing the largest number of apparel.

short-sleeved

raw materials used is very wide, generally cotton, hemp, wool, silk, chemical fiber and blended fabrics, especially cotton, hemp, or hemp cotton blend better with the breathable, soft, comfortable, cool, sweat absorption, heat dissipation and so on. Often as a short-sleeved knit, but because of consumer demand is constantly changing, increasingly designed renovation, so as to produce a short-sleeved woven fabrics also have available to become a new member of the family short-sleeved. This short-sleeve often use rib collar, or rib sleeves, rib edge clothing, and decorated with embroidery, trademarks, not only embodies the clothing designer's originality, but also to make unique short-sleeved, adding to the garment beauty. In the short-sleeved woven fabrics, the preferred number has to be thin, soft, smooth features such as real silk, patch wearing special comfort. Use of silk or polyester silk-washed short-sleeve nylon silk production, such as complemented by mosaic technique, so that short-sleeve adds a special style and artistic flavor, well received by young men and women in love. In addition, by the artificial silk interwoven with rayon Fuchunfang, specially treated peach terylene artificial silk, warp wash silk, spun silk short-sleeved silk are the ideal choice of fabric, inexpensive cotton Textile fabrics have become the darling of short-sleeved. It has dressed in a natural, relaxed, comfortable, and Sweat-absorbent, breathable, non-allergenic characteristics of the skin, in the largest proportion of short-sleeved, satisfying the people's return to basics, advocating a natural psychological requirements.

Because short-sleeve is that people can be worn on various occasions, clothing, style also changed slightly, such as short-sleeve to make the appropriate decoration, you can add infinite charm. Using oil-based signatures on a short-sleeved light-colored English letters or Chinese phonetic alphabet written on their own or the name of their idols, but also painting a few strokes of the stick figure is simple and full of fun, elegance and chic look. Colored yarn can be used also in the short-sleeve cuff of the two spots on the single out a small Saika, or simple geometric shapes, do not seem to have fun. It can also be two very different short-sleeved suit vertical cut in half, swap and then Welds together, can form a special style. The old is no longer wearing short-sleeved under the cut along the circle can be used for ribbon to use, elegant young women in the head, and more seem lovely and lively, full of romantic mood. Through these processing production, short-sleeved can add infinite charm.
NEWSLETTER SUBSCRIBE (EMAIL)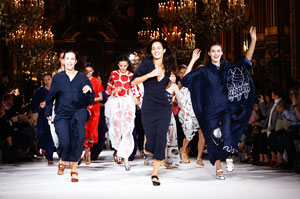 Online Fans