Apparel business
Vest


Sleeveless T-shirt, also known as a vest or sleeveless jacket is a sleeveless and collarless, and a shorter jacket. Main function is to warm before and after the chest area and to facilitate the activities of his hands. It can be worn inside the coat, you can also wear the underwear out. The main varieties and all kinds of suits vest, cotton vest, down vest and a wool vest and so on.

China during the Wei, Jin Liang crotch is the prototype vest for the open-necked sleeveless waist clothing, imitation from the Han Liang crotch armor, whichever is "When the back Beware of" meaning (see chart) . Song is called vest. To the Qing Dynasty, vest shapes, and there are dajin, Duijin, pipa lapel, etc., and Nannvjieke wear. One of the pectoral is a row of 13 horizontal and New Zealand, "Batu Lu (Manchu Warrior) waistcoat," for the beginning of the court officials, after the general officers wear. Soldiers will also vest for Hao Yi. In time, more working people will vest as a jacket to wear. Of modern life vest wear has been very common.

vest originated in 16th century Europe, for Yi Bai openings on both sides of the non-collar, sleeveless T-shirt, a length of about knee, and many more silk as the fabric, and decorated with lace Caixiu wear on the jacket and between the shirt. In 1780 shortened the body and clothing after wear matching suits. Suit vest is mostly single-row New Zealand, New Zealand, or with a small number of double collar. Characterized by a former clothing piece using the same fabric and tailoring suits, clothing after the film is applied with a suit cut with the lining system, some of them mounted behind the waist belt loops, clamp to adjust the tightness. Cecilia Cheung wore a small vest.

modern style by wearing a vest law is hedging type, cardigan-style (including the former cardigan, after the cardigan, side or semi-breasted cardigan, etc.); by the body shape with waist-style clothes, Zhi Yao-style and so on; according to whether the collar-style collar, standing collar, lapel, collar, etc. forwarding. Vest length usually below the waist and hip but not more than a small number of women's vest in less than a waist-length tight little vest, long vest or over the buttocks. General Women's vest as tight stature, men are mostly generous shape.

vest generally named according to their production of materials such as leather vest, wool vest and so on. It can be made into a single, and folders can also fill in the folder vest with cotton wadding material. Respectively, according to Xu said the cotton material material vest, cashmere vest, down vest and so on. As technology advances and the development of clothing materials, with effect from the 20th century, 80 years of medical vest, electric vest, and other new varieties.
NEWSLETTER SUBSCRIBE (EMAIL)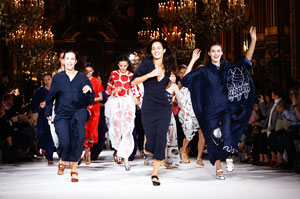 Online Fans