Apparel business
Petticoat


Slip women's clothing, especially underwear worn as a skirt inside.

Skirt worn with the matching skirt necessities, it can not only cover certain parts of the body to make it less obvious, but can be separated out of the skirt and the human body, both to avoid the rough fabric of the hard thick skin irritating, but also Avoid bodily secretions such as sweat and dander on the skirt of the pollution, human action can reduce the direct wear and tear on expensive fabrics, to extend the life of the skirt, in addition, modeling can play with petticoat skirt outline the effect of landscaping; in the bedroom within one to wear petticoats and bras, but also add a feminine charm.

Slip than the skirt is short, must not be exposed bottom edge; skirt colors do not run counter with the transparent or translucent skirt, skirt material if thick, opaque, any color can be. Petticoat and dress styles to match styles, such as long dresses with petticoats, skirts with shorts, pants; wear Tongqun, Chinese or skirts, pleated skirt is not equipped; the long way, especially in mountain travel, not with flat feet wear underpants, as flat feet bottoms will gradually move up with the frequent transfer paper, torn inner thighs, with sweat of excitement is pain, can not even finish the scheduled distance, to play halfway, if Delta will not be wearing pants on this situation. Other underwear, also each have their own role, such as pantyhose, is a good polyester or other synthetic fabric made of elastic, it close to her lower body, lower limbs without prejudice to the activities.
NEWSLETTER SUBSCRIBE (EMAIL)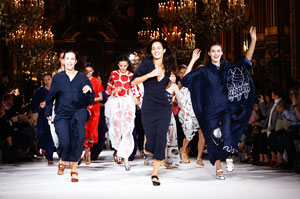 Online Fans