Apparel business
Pants


Modern trousers names, commonly known as three-quarter length pants. 3 Hong Kong and Macao region of bone is a British three quarts (Quarter) of the harmonics. 3 quarts meaning that three-quarters inch. Pairs of long pants in the pants in the three quarters of the parts referred to as three-quarter length pants. Its length is about 10 cm below the knee in the wearer to 20 centimeters. This pants wearer in Hong Kong and Macao are more eighties also endemic in our country.

in the pants with

with the pace of fashion, shorts and pants have become the wave of the winter, shorts can be just right to bare the most charming big calves a women's style reflects the season's most charming stockings is one of the weapons, they are the perfect combination of the two legs you a big show at the same time without losing the grace and elegance. Therefore, with the 08 winter clothing, the pants have also become a protagonist of the.

boots and shorts, with a certain percentage, regardless of the length of a single product itself, generally between the boots and shorts 5-8 cm distance, the ratio is the best visual.

leisurely attitude, noble does not pamper to bright purple stripes mix and match with a layered look, a very lovely style of dress and night.

this fall and winter will not dull and heavy, not only fashionable, but also a warm, full of lively temperament and a sense of elegance Check in self-cultivation sweater pants with a blue lake, small ornaments to join to create a lovely atmosphere.
NEWSLETTER SUBSCRIBE (EMAIL)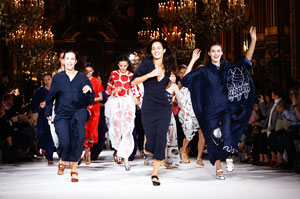 Online Fans