Apparel business
Overcoat


Coat is longer than Hip Waichuan clothing apparel. Broad sense also includes windbreaker, raincoat.

About 1730, the European upper class men's coat appears. The editing style is generally horizontal waist, waist fit, then known as dress coat or long coat. 19th century 20's, coats become a daily clothing, clothing for up to the knees slightly, big lapels, waist style, lapel-style with a single row of New York, New York double. About 1860, then into knee length coat, seamless waist, narrow lapel, collar decorated with velvet or fur, to paste the main bags, multi-purpose duffel fabric production. Women's coat appeared around the late 19th century, is in the women's long wool coat made based on the development, clothing long body, large lapel, waist-style, mostly for velvet fabric. Western-style coat around the mid-19th century and the suit also came to China. After the emergence of a set of Chinese gown to wear in addition to the long coat length and foot, said Chinese-style coat. Cloth breeches commonly used because it is also called whipcord coat. Such overcoat in the 20th century it was popular before and after 30 years.

Modern men's coats are mostly straight wide waist style. Models mainly in the collar, sleeves, placket, bags and other parts change. Women's coat usually with the constantly changing fashion trends and styles, no fixed pattern, if any combination of multi-block clothing piece body garments, some of Hem wavy, and some also comes with belt and other accessories.
NEWSLETTER SUBSCRIBE (EMAIL)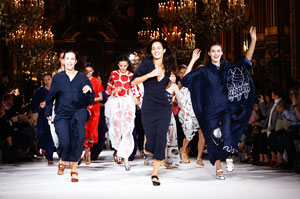 Online Fans