Apparel business
swallow-tailed coat


In formal occasions, men wear a particular dress. The basic structure for the former short suit collar form, post length, dovetail into shape after the garment piece was two slits, the European troops from the driver's costumes. Stern, multi-color black as that serious, serious, sacred meaning

Tuxedo suit after the film comes down to the knees, after the slits in the seam has been opened to the waist line, giving rise to two dovetail. The back sides of the Princess line, rendered its shape is very fit, the waist with a lateral cut line, and cut off the line in front of Yibai phase, the next break in the cross-section connected to dovetail part, this is the basic CD Victorian Men's inheritance law . Lumbar transverse joints are decorated with two cut package deduction, after the princess line seam and side seam splitting practices are used, no Ji-open wire.

Very thin coat sleeves, sleeve high armhole smaller root in the sleeve inside the axillary part of the triangle has a double mattress, made to increase the wear resistance and perspiration resistance. Tuxedo suit body part is generally a black satin lining, sleeve lining is a white chevron Twill. To make sense of the chest full of volume, while the soft drape another sense, good flexibility in the use of cauda equina chest lining, lining the back part of the general use or fulling cloth lining, split his head to use eight-shaped pin Carolina to increase flexibility in forwarding head of steam.

Matched with the tuxedo dress pants are different from ordinary trousers, stand crotch deep, generally do not have belts, but with the strap, "SARS spray up" (suspender). There are two live pleated front pants, trouser legs from the hip to the knee is more loose. Length slightly longer, but no volume trousers. Outside Ku Feng Department decorative head split in two tuxedo ribbon with the color homogeneous. Both sides of the trouser pocket for the straight open pocket, AMC province next to the open line form single pocket, generally do not back pocket, to have only one side is the opening line of double digging pocket. The use of braces, so pants are equipped with a strap around the buckle. There are gaps in the central triangle lumbar here retains traces of the past custom of the times.
NEWSLETTER SUBSCRIBE (EMAIL)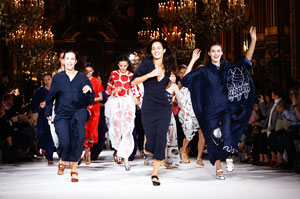 Online Fans