Apparel business
Camouflage


Camouflage, is a basic type of training uniform, from green, yellow, tea, and black colors of the irregular pattern of a new type of camouflage. Camouflage require it to light and reflection light reflected from the surrounding landscape are similar not only to confuse the enemy's blind, reconnaissance, but also on the 87-style camouflage pay infrared detection, investigation and as the enemy of modernization equipment elusive goal. Camouflage camouflage clothing first appeared as Hitler's army late in World War II, the first to use the camouflage of "three-color camouflage." Later, the United States led a number of countries equipped with the "four-color camouflage."

Now GM is the world's "six-color camouflage." Modern camouflage clothing and also according to different needs, using a variety of changes in the basic color pattern. British 80's temperature zone, hot zone combat uniforms and raincoats are all fans of color, and reflects the characteristics of more than one use, reflecting the current combat international clothing trends. In recent years, Taiwan has also actively developing new Army field camouflage, use the ratio of materials is to reduce man-made fibers, cotton to 60% or more ingredients, to not easily ignited; adopted in the color black, brown, dark green and green 4 kind of a mixture of camouflage colors. At the same time, its surface specially treated, it also has infrared night-time anti-reconnaissance capabilities, with beautiful style, comfort, reasonable structure, safe and practical features.

Japan's newly developed camouflage uniforms have spring, summer and autumn general categories, taking four-color camouflage fine lines, two color, were used to the environment of plants and seasonal fabrics infrared radiation equal, increase of the infrared, ultraviolet detection, as the night protection, an increase of warm, breathable, waterproof and non-flammable nature. Winter in the fall with camouflage fatigues put on the surface of UV reflectance and equivalent single-layer fabric made of snow white gown, which is equipped with kapok T-shirt, sweater and coat, increased moisture, keeping them warm, even in the minus 30 degrees Celsius weather conditions can also play a "warm water" ultra-high performance, can play well to avoid water, wind performance. In order to improve the camouflage of generality, the U.S. military for training uniform specially developed a multi-color fabric dyeing and printing process on both sides, one side printed with standard military digital camouflage patterns of forest land on one side and printed with three-color desert pattern.

At the same time, the U.S. military has developed its special anti-chemical clothes camouflage pattern. People's Liberation Army camouflage battle training two types of clothing in summer and winter color in summer-type four-color woodland camouflage pattern, color desert grassland in winter, the Tri-Universal. It is reported that foreign armed forces in recent years has developed a so-called "chameleon" type camouflage training uniform, the material using a light color dyes can color with changes in ambient light change color automatically. In general, if the environment remains unchanged, dye is in a stable condition, color does not change. Once the environment changes, light colored dye and the environment by the new primary colors of light reflection, and the new environment will become less suited to color.

Camouflage is a slice using different colors, so that soldiers can blend shapes hiding place of the special uniform. Camouflage wide application in the field, greatly enhances the action of hidden forces, reducing casualties. In times of peace, well-made camouflage uniforms, but also become sought after many military enthusiasts and collectors objects.
NEWSLETTER SUBSCRIBE (EMAIL)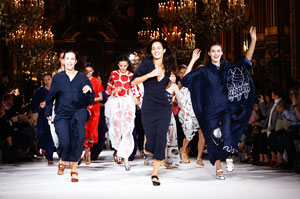 Online Fans