Apparel business
Half Skirt


Half skirt, hence the name implies, is the skirt only about half the normal length skirt, generally, and the knee skirt.
br> Semi-skirt with:
br> Soft flowing pleats of lace material effect fully shown the rich sweet temperament Shu-Yuan, violet color appeared quiet and elegant, consistent with autumn girl sincerity, with the highlight being a short season jacket with colorful scarves paragraph, the perfect interpretation of early autumn and a half skirt LOOK!
br> Slightly wrinkled fabric speaker and a half wide version of the dress skirt scattered body girl looked very sweet flavor, wide version of Contour thin legs can also be very significant effect, can be strapless dress with a green T-shirt, casual sweet, black handsome fashion chic boots.
br> Check the color of fresh mini cute playful, not too sweet and appropriate degree of modification is also displayed, and topped with a white color T shirt type tops, and more filled out pretty fresh breath.
br> Prints very rich visual effects to bring the spread, the brightest point is the contrast color stitching girdle around his waist, shining golden copper very luxurious texture, skirt is a crossover design, have added elegant femininity.
br> College Check the wind with half-skirt with a dark sense of autumn color to emphasize the autumn feeling, wide version of the A-rich skirt hem fold, exceptionally sweet! Width of the elastic strap around his waist, was thin and stylish.
br> Knee-length skirt and dark blue semi-quiet but seemed introverted, more suitable to create a dignified elegance of white-collar shape, slightly wider skirt with folding handle, forming the shape of a sweet horn, metal rivets modification, bring personality fashionable.
br> Shuai cool retro style and unique leather skirt, MM is the trend of their style in the season can be, more popular half-skirt zipper modified to add a lot of trendy atmosphere, it is very glossy leather eye-catching!
br> Soft flowing chiffon, and rich natural materials to create a fold eyeful of sweet feeling of elegant color to the shape a quiet lady of good means, with the T-shirts and knitted cardigan, chic it moving.
br> Modeling is very lovable and sweet skirt, slightly glossy on the quality of fabric to bring a sense of dress is very creative body used in the back of the cake with layered skirt, behind the scenery to make a more unlimited!
br> Jeans texture Zhi Tongqun loaded the appropriate length of a solid color design with a certain self-cultivation effects, unique decorative rivets, adding chic modern atmosphere, high waist style dress shirt IN-in is also very charming.
NEWSLETTER SUBSCRIBE (EMAIL)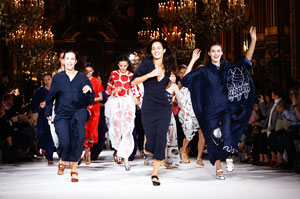 Online Fans