Apparel business
Trousers


pants (trousers〕 mainly refers to a suit jacket with matching pants worn. mainly because of trousers worn in the office and social occasions, so demand for comfort in a natural context, the more attention and physical modeling on the co-ordination. cutting the amount of time to relax moderate, and gives a feeling of calm and steady. trousers in the production process and style, basically has been internationalized and standardized. West shorts and trousers of the process is basically the same, ranging in length above the knee, according to their need to choose.

with the distinction between casual pants

side with the legs sewn method distinguish trousers was considered provocative side; casual pants pants two-seam is sewn, the two-lane exposed.

pants buy

First of all, from the function that the loose trousers moderate, in the walking upstairs when it is convenient activities, without appearing to be too loose. Xiecha side pocket designed to enable men to carry lighter, handkerchief with the sanctuary.

style of trousers is more concise can be adapted to a variety of occasions. In business meetings, negotiations and other solemn occasions, wearing trousers could shape your calm and competent corps of temperament; You can also coupled with a serious bottle-collar dress shirt at work, which is convenient way to work back and forth, again can establish a rigorous, streamline the work of image; on weekends, need to feel casual fun time, dressed in knitted T-shirts and lapel matching straight trousers, casual and comfortable; when you need civil servants to go out for a short tour, make sure to bring a comfortable, easy washing, ironing, easy finishing trousers, so do not have the boundaries of trousers folded over after an embarrassing position. clean shirt, a suede loose outer coat, help you on the road to maintain fresh, clean image.

In addition, it is not a perfect man for the legs is also very necessary, O-type legs, X-type legs, the legs too thick or too small and can be adopted by wearing trousers in order to be modified.

from a popular perspective, the pants will not be much change in appearance. generally close to straight-type trouser pants, and a clear line of pants, trousers overshadowed by the foot 2 ~ 3 cm is appropriate (in order to avoid walking socks when exposed color). Typically, material is good, wear comfortable pants you can put on a few years. the men of different ages can find suited to their style, so when you purchase more to spend more time and money is very worthwhile.

When you purchase your note

A. waist, hip circumference suitable, long pants to cover the foot Some;

B. fabrics comfortable, breathable, feel good, easy to organize;

C. pockets, bags and other parts to be formed;

D. leg and bad men great style trouser legs slightly wider choice, the best choice for a dark color;

E. Lane to wear trousers when the trouser pocket is best not to put too much stuff;

F. Be sure to wear trousers To the Department of belt, otherwise it will seem very rude.
NEWSLETTER SUBSCRIBE (EMAIL)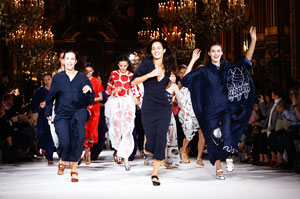 Online Fans