Apparel business
Outer clothing


Jacket - the clothes people wear on the outside.

Knitted coat colors common organization for the organization. Organization is the basic organizational colors based on the use of coils or other changes incorporated into a number of yarn, yarn or other textile auxiliary materials, to form a significantly different color effects and color properties of knitted fabric, the structural unit is mainly coil, floating lines, arcs and additional segments suspended. Knitted fabric colors, including color pattern and structure of the pattern and color pattern of the structure also has a variety of tread pattern or the structure of pattern effects.

Fabric with stripe effect is composed of different yarns to form each coil row. Use of organizational change, such as the use of rib or double rib and single organization or set of composite ring compound such organization, the uneven surface of horizontal stripe effect. The former common air layer fabric with rib and rib tuck organizations, which frequently have pairs of rib fabric air interlock tuck organizations and organizations. In addition there are single tuck organization, double negative organizations, terry organization, Tim yarn organizations, organizations can liner to form horizontal stripes in the fabric

Vertical section of fabric with the main effect of organizational structure changes is to use the method formed. The coat type fabric, forming a longitudinal effect of organization shall set ring tissue, rib composite body double rib composite body liner organizations, jacquard organizations, terry organizations.

Mesh fabric is a T-shirt response, spring and autumn the most extensive one coat fabrics. Use of coil and tuck overhang arc staggered configuration, forming mesh, also known as bead to the fabric. Needle coil by hanging and tuck the number of equal or unequal arc, but almost the same way, alternating checkers-type configuration, formed to organize a variety of beads. Based on the rib knit tuck and float to form a diamond-shaped mesh effect of concave and convex. Rib and tuck with complex organizations, can form a honeycomb mesh fabric surface.

In addition, there jacquard organizations, complex organizations, pile knit fabrics, plush organizations, can be used as a coat knitted fabrics.
NEWSLETTER SUBSCRIBE (EMAIL)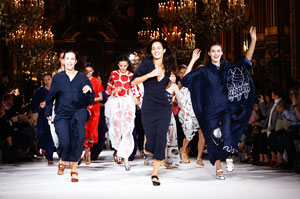 Online Fans