Apparel business
Suits


Means a well-designed, with matching pants or dress down matching, or matching coat and shirts. There piece suit, there are added into a three-piece vest. Usually by the same color in line with the expected or modeling style clothing, pants, skirts, etc. made to match. Change its pattern mainly in the T-shirt, generally T-shirt, style name, or distinguish between species. Where matching clothing in the past mostly with the same color with the material to cut. But in recent years is also useful with the material cut is not the same color system. But the set requirements are basically the same between the modeling style, color coordination, gives the impression that it is neat, coherent and unified. More choice in professional areas such the way they dress.

humans since ancient times, pay attention to the matching dress. China has Mian Fu Zhou, Benten service system, clothes Guanlv match, after many ages in use. To modern times, gown, jacket, etc. to wear as a dress to match can also be regarded as sets. Set in modern Europe began in the mid-19th century. Men in Europe at that time by the fabulous luxury, has become portable, simple, coat the length of the shortened, Chang Lu vest, under the trousers, gradually formed a coat, vest and pants suits with three fixed. World War II do not appear in the two-piece vest loaded. The early 20th century, working women to emulate men's suit jacket, a skirt with the same color match with the material to form a skirt sets. Expanded the scope of the present suit, in addition to the composition of the upper and lower fitted with a package, there are matching inside and outside the suite, as well as pay attention to the overall mix of suits and so on, have become more flexible.

suit generally necessary to have one of the following conditions: ① using the same color with the material cutting system, such as the tunic, suits, jeans and so on. ② though not the same color in line with the expected style, but style, clothing color can be echoed up and down as a whole. Fitted cloth colors are deeper than the T-shirt, and used the cloth tailoring downloading coat pockets, collar and other attachments, or upload cloth tailoring downloading attachments. ③ In the decorative accessories or color co-ordination of the use of a complete idea, such as color inlay, moldings, text, patterns, buttons, belt loops and other organic linkages, coordination, constitutes one. With the general wear any clothing can not be considered the upper and lower sets.
NEWSLETTER SUBSCRIBE (EMAIL)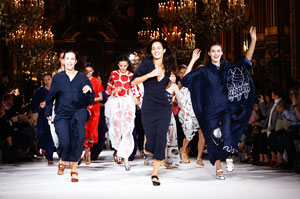 Online Fans