Apparel business
Jacket


cotton-padded jacket (mián'ǎo; cotton padded coat〕

within the floc any cotton, acrylic cotton, space, cotton, camel's hair coat and other insulating materials are known as the cotton-padded jacket. cotton-padded jacket Chinese-style cotton-padded jacket and Western-style cotton-padded jacket with distinction. the traditional cotton-padded jacket plus the way they dress, gowns, is gradually disappearing, in the middle below the wearer who is rarely seen, replaced by a fashion profile, casual and comfortable cotton-padded jacket jacket type , its length from the short-to-waist sections above, to long to the ankle varies considerably, has been marked with a strong brand of the times, adapt to the rhythm of modern life with the people.

cotton-padded jacket strong "is a kind of warm winter wear that has a strong role of the T-shirt, this garment a total of three layers, the outermost layer called the face, mainly the color with some bright or thicker fabric pattern; the middle of is a very warm layer of the role of cotton; most inside layer is called lining, generally is relatively thin fabric. there is a cotton-padded jacket is to face and clip the warm layer of cotton separated from the system to do this will have a four kinds of cotton-padded jacket, wear warm layers so long as the time set in the yard inside the lines, and they are connected with zippers or buttons.

cotton-padded jacket style comparison rich and diverse, there is a long type, medium-and long-style, short type; Among them, the style of women's cotton-padded jacket most abundant.

cotton-padded jacket also more casual dress can be directly wear on the outside, you can also wear the jacket inside.
NEWSLETTER SUBSCRIBE (EMAIL)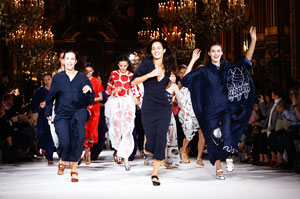 Online Fans