Apparel business
spencer


Jacket jacket''known''that Length short, wide chest, tight sleeves, tight shirt style hem. A lapel, collar off, collar, rib collar and so on. Usually cardigan, tight waist, loose shoulder. Comfortable. Unlined, Jia Yi, coat both, men and women Jieke wear. Some packages also formed, such as men with jeans, skirts and other women with.

Jacket, men's wear from the Middle Ages is called Jack jacket made of coarse evolved. 15th century, Jack had a drum out of the sleeves, but this is a decorative sleeve, the arm does not pass through it, and sank in the clothes. The 16th century, the man Jack length than the next dress, tied up with tape, the formation of folds around the body, into the 20th century, men from the stomach down the button jacket is open, there are decorative button cuffs, hem to the superior gluteal fold clothes with buttons fixed with the Department. And then also as the 18th century women's coat women's hunting on horseback, as into a fit of jackets, then, after various changes, has been developed to now, jacket almost every nation around the world. However, as history recorded it, women really started a lot of wear jackets, is the 20th century. Jacket since their formation, evolution of style can be described in different styles, different times, different political and economic environment, on different occasions, people, age, occupation, etc., on the jacket's shape has a significant impact. In the history of the world's clothing, jacket of progress, has formed a very large family.

Jacket of the purchase not only view the features, consumers will depend on how the fabric texture. Jacket fabrics used range from high-grade wool fabric with natural leather, leather, and wool-polyester blended horse hide, etc., wool cotton and chemical fiber to be high-level treatments or pure chemical fiber blended fabrics; in a variety of medium-and long high-grade fabrics fiber tweed, cotton poplin rain, nylon silk, TC poplin, rubber silk, imitation sheepskin, etc.; middle and low viscous cotton fabrics and cotton fabrics such as ordinary. Different styles of jacket and its consistent use of fabrics, such as bats gorgeous shiny nylon jacket with silk or TC poplin fabric making, adding high-quality accessories and parts, after the women wearing colorful style dancing. If you are hunting the former grams require a higher quality of clothing and appearance should be very close flat, thicker texture, good crease resistance, even after the man was wearing fit upright. How to choose enough jacket: optional jacket on the placket. Zipper pocket, etc., press button should pull a pull, buckle a buckle, a strong test of whether strong and flexible easy to use, keeping in mind the quality of sewing and cutting fabric, can not affect the use of the serious defects occur.
NEWSLETTER SUBSCRIBE (EMAIL)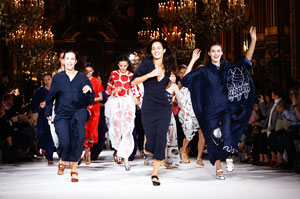 Online Fans