Apparel business
Hanbok


Korean: 한복 Chinese: Hanbok English: Hanbok South Korea, Hong Kong and Taiwan as well as Western countries call 한복 (Hanbok Hanbok), North Korea called 조선옷 (Korean 옷), is a traditional Korean hanbok dress features a simple design and clothing on and no pockets. Korea's traditional dress had no fixed name. After World War II, the Korean peninsula was divided into North and South Korea are two countries, South Korea a greater impact, so the international community known as the "Hanbok." Hanbok is the evolution from ancient to modern traditional clothing. Hanbok both curves and straight lines of the United States, in particular, Ms. Han clothing jackets, and skirts under the thin thickness, dignified and Elegant. Dressed in hanbok to disclose ethical and ultra-secular oriental beauty of the perfect combination.

Korean hanbok dress history A long time ago have been wearing Korean hanbok, Korean clothes, but now is about three times evolved. Was very short and tight pants, and tops of the waist is very close. Three Kingdoms period is nearing its end, China's Tang Dynasty silk robe Government reached South Korea. Aristocratic women began to wear skirts and wide sleeves of the body coat (jacket). The man was wearing narrow bodied, long coat to the knee pants and wide body, and the trousers tied at the ankles. In the Koryo era, Korea has become a vassal state of the Yuan Dynasty over 80 years. Goryeo later married the daughter of Genghis Khan, Mongolia, from wearing clothes. 3 years of his rule, officials must shave all the hair and to wear clothes of Mongolia. Lee's Korea Times, South Korea as states of the Ming Dynasty, Ming Dynasty clothing apparel also to similar patterns, the initial belt she on the right side than the young and short, and later moved to the middle position and a more bold, extended, dresses tops also shortened. North Korea in the late Lee, civilians (STOMATOLOGY) Women's T-shirt or short to bare chest, it may be designed to facilitate breastfeeding, Sun accounted for the times by the Japanese rulers as "immoral" as an excuse to ban. Later became the style is now seen.

Hanbok can identity, function, gender, age, purpose, material classification. Modern point of view, the use of the distinction between the most representative. According to life customs purposes, Korean clothes into wedding dress, Nail services, holiday clothing, birthday clothing, etc.. Holiday Service: In South Korea, Chinese New Year New Year's morning to give parents, parents usually wear hanbok, the children wear colored children (seven-color Caiduan) hanbok jacket and New Year. Years service: in Korea, when a child is one year old child asking to be held, disease-free longevity of the ceremony. At this time, the children wear a birthday suit. Boys turn light-colored clothes, usually blue edge light purple pink jackets pants, wearing a blue vest top, with green belt she. Girls with dark green or yellow jackets do, birthday or special day to wear colored jackets children, recently Tang suit to wear to the birthday girl. Nail Banquet Services: Nail is the parents of their children to a ceremony, I wish their parents good health and longevity, then put on the birthday banquet. Nail feast of men wearing Dai Jinguan grass suits; woman wears a dress of a Tang suit style. Wedding dress: the traditional wedding hanbok hanbok gorgeous than usual. The bridegroom's dress pants, jacket vest, coat with a knot on wearing Shamao crowned, wearing wooden shoes. Palace Clothing: formal dress Palace: major national ceremony dress Joseon Confucian position as the consolidation of dress began to take form and etiquette. Korea Times is a festival dress formal dress. Great dress, also known as Mian Fu, wearing crown crown. Wear Mianfu. Mianfu is ancestral, Sajik and other rituals, or is the beginning of the winter solstice and other big occasions to wear clothes. Princess Di to wear a big dress clothes. Great dress Palace: major national ceremony in dress.
NEWSLETTER SUBSCRIBE (EMAIL)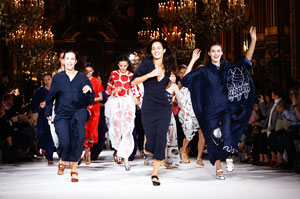 Online Fans