Apparel business
Western style clothes


Dress is to have Lolita fashion style. Lolita style and fashion is a sub-culture, from the Japanese. This dress style inspired by the Victorian girl and the Rococo period of fine clothing garments, as well as the Western Gothic and punk sub-culture of the formation.

Typical of this style of dress is Ji Xiqun, or foam inside wearing pants Shaqun spread to achieve the effect. Usually knees socks or knee socks Pei Chen, especially the top or crown logo printed on the rose, with lace and scallops. The typical type of shoes are cute, similar to children's clothing shoes, such as round-bottomed shoes, shoes, other Ma Tau Wood and similar shoes are also common. Skirt is usually a tapestry, with hard crepe collar, or laden with Victorian ladies lace blouses, often coupled with Peter Pan or sailor suit collar, or long lace shirt.

Because of this dress with the famous novel "Lolita," the actress, dressed in similar style, so called Loli. Yinluo Li style is extremely ornate delicate, and many Japanese anime style applications will LORI role in setting its result, many people mistakenly think that Loli style is cosplay. LORI style is a fashion style, as hip-hop style, pop style, sports style. The cosplay is dressing up as a single animation, fiction, cartoon characters, their clothes completely fine cf its settings. Two are completely different.

Other clothing is not worn in one or more pieces in that pinafore jumper skirts, wear the shirt on. Lace headdress, a mini top hat worn on the side, and complex, some women prefer old-fashioned jewelry accessories.

Regardless of its name, LORI style is not described in instigating sex young girls. True to decency and innocence LORI pride, and sets that show too much skin is considered the 'bastardization of the fashion'.

Although not a founder of the style, the Lolita style is often considered was popularized by the Mana, Malice Mizer among the band, its for his clothing brand but also created the term "Elegant Gothic Lolita".

This trend started in the 70's, although it did not popular nor have they received media attention until the late 1990s and early 2000s, began to become popular.

Of course, now women have been impossible to wear court dress complicated work or activities, so lolita and features mainly to capture the essence of performance, such as lotus leaf, the skirt, princess sleeves, tether design, and finally evolved into today's lolita dress . Lolita first store in 1976 in Japan, so in fact the history of Lolita clothing is not long, compared to punk, gothic several decades to several hundred years of history compared to more short.
NEWSLETTER SUBSCRIBE (EMAIL)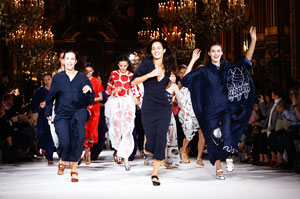 Online Fans