Apparel business
Tang suit


Tang suit intended to refer to the Han Dynasty clothes, a traditional jacket, skirt, a style popular in the early period of Tang general, basically followed the women from the Eastern Han Chinese traditional jacket lower part system. Tang suit with the modern concept of distinctly different. Tang clothing clothes word, in fact, clothing is clothing, Couture is a good clothes, is the wearing of clothing, Couture said in fact refers to the modern dress, clothing and Couture separately. This women's clothing is not Jumpsuit, but divided in two and the wear law has been extended to the late Ming. Top dressing is basically the right delivery of junction leading or tied with a knot breasted, following a long skirt tied up around the seaweed, shirt or tuck inside or natural loose with, then this loose blouse been on the increase, Department of follow-up to the knee has been, it was later developed in the Ming Dynasty on the back child.

Two explanations 1. The most reasonable explanation is the "Tang Dynasty costumes";

2. Another explanation is that a more far-fetched, "Chinatown Chinese, Chinese-style dress."

the origin of the latter view, some of the "export to switch domestic" flavor, said West "Chinese Street" as the "china town" in English sounds like "Tang" was translated as "Chinatown," and so on these Chinese Street "Chinese" by the Chinese-style clothing is called "Chinese style costume."

heads of state worn under the APEC meeting, "Tang suit," the principal designer of Miss Yu Ying's views, "Tang suit" should be known as Chinese-style clothing, so had a good costume design, the design team to discuss a set of When clothing named, decided to name this clothing, "Tang suit," the process is well received by such "domestic transfer" of the "style costume" of interpretation.

Modern Tang suit The late Qing Dynasty Chinese dress style clothing, that is the "Chinatown Chinese, Chinese-style dress." This costume is in fact a continuation and improvement of the Manchu mandarin jacket, is full of the scope of services, and "Tang Dynasty costumes" (Chinese service) in the style of the above models is not the slightest resemblance.
NEWSLETTER SUBSCRIBE (EMAIL)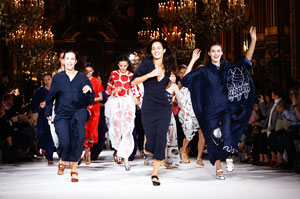 Online Fans