Apparel business
Uniforms


Special needs for work clothes.

According to customer requirements, combined with professional features, team culture, age structure, body features, wearing habits, from the color of clothing, fabric, style, shape, with so many consider the best design for the customer to create wealth content and quality of the new professional image.

Uniform according to industry can be divided into: first, second and third industrial uniform three categories. Uniform according to their primary industry sector can be divided into categories: agriculture, forestry, animal husbandry, fishing, hunting and mining uniforms; uniform secondary industry can be divided into categories according to their industries: manufacturing, civil construction and other wear ; the tertiary industry is in addition to the above first and second of all industries other than industry sector, such wear can be divided into public utilities (electricity, gas supply, transportation and Telecommunications) uniform; financial and insurance sector (banking, trust shares and insurance, etc.) uniform; machine maintenance industry (auto repair, car parks and other repair, etc.) uniform; service industries (restaurants, hotels, barber, beauty and entertainment field, etc.) uniform; culture, education, health, scientific research career (school , aviation organizations, libraries and medical, etc.) uniform; liberal professions (law, accounting, journalism, business intelligence, advertising, construction services, and various advisory bodies, etc.) uniform and so on. Different uniforms according to the classification structure, can be further broken down according to specific industry characteristics. Such as transport uniforms, can be sub-car transport, shipping, air transport and other transport of the different uniforms. Further, such as uniforms can be divided into motor transport driver, conductor, ground crew uniforms and so on. One is the unique uniform military uniform, this is a large class of special uniforms, their arms can be divided into land, sea, air, armed police and special military forces uniforms, can be further subdivided.

Uniform according to their choice of materials can be divided into: pure textile fabrics, blended fabrics, fur and other materials uniforms. Pure natural fiber textiles are cotton, hemp, wool, silk; chemical fiber viscose, polyester, nylon, acrylic, polyurethane, polypropylene, polyvinyl chloride fiber, Teflon, etc.. Blends of various materials is more than two and mixed into the fabric of textile. Fur uniform sub-categories of natural fur and artificial fur, natural fur, including fur and leather types; artificial fur, including plush camel, flocking, leather, synthetic leather, and other chemical leather, etc.; mainly refers to a variety of other materials, wood, chitin , plastic, metal and so on.

Uniform according to climate can be divided into seasonal, regional, weather of three categories. Seasonal uniforms can be divided into winter and summer, spring and autumn uniform; regional uniform can be divided into cold, tropical, temperate uniforms; weather of uniform can be divided into cold, summer, wind, protect myself, radiation and other uniforms.
NEWSLETTER SUBSCRIBE (EMAIL)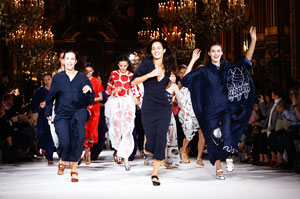 Online Fans